Angry Birds has been a huge hit and Angry Birds For Mac is cool too as you will have a wide screen. When angry Birds was launched even the developer didn't thought that it will become such a massive hit and now angry birds are one of the best selling video game across the world.
Angry birds is considered as the number 1 selling video games almost on all platforms and its one of the factors which contributed majority in the sale of iPhone and iPod. Every one who plays angry bird for the first time either on their smart phone or on their pc they became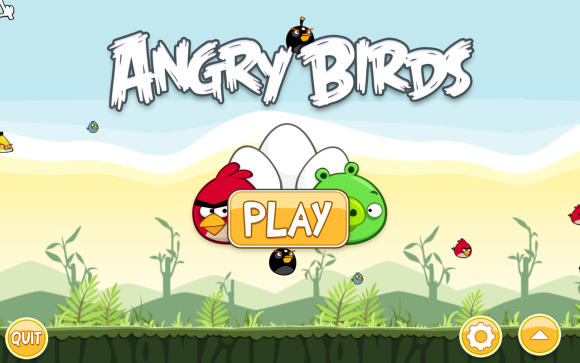 a fan of it and become addictive to it. There might be very few smart phone users who might have never played angry birds on their phone however majority of the users love to play angry birds on their smart phones.
However when the game was restricted only to smart phone users there were many people who didn't have smart phone and even today there are many people without smart phones so the company decided to launch a desktop version and now the game is available for both Angry Birds For Mac users and for pc users.
Rovio launched Angry Birds For Mac when they launched the Mac App in January even the windows version for pc users too went live in the same month and now its available to netbooks and notebooks computers however the desktop version is available at $9.99 but you can get it at an introductory offer at $4.99 only for a limited period of time.
The desktop version is usually the same as the original version, which was released for smart phones even the levels are same the only difference is you have to use your fingers when you are playing angry birds on your smart phone while you will use your mouse when you play it on your pc.
While playing angry birds on your pc you have to hold the bird and drag it back clicking the left click and then you have to release it however Angry Birds For Mac is much better as you don't have to hold the bird instead you have to place your finger on the tr4ackpad and then drag the bird back to release. On the trackpad you have to use the pinch to zoom to zoom in and out while on desktop you have to use your mouse scroll key to zoom in and zoom out the screen.
If you are playing Angry Birds For Mac on you Mac OS X then you can use these keyboard shortcuts to enjoy the game with more ease.
You can use Command+F to toggle between the screen and windowed mode.
To zoom in and the swipe forward and zoom out with a swipe back and to get same effect with scroll wheel use scroll wheel or two fingered swipe.
R:
This key is used for restarting the current level and zooming into the target structures.
S:
This is used to mute and umute the sound.
P:
If you want to pause the game you can use this key.
Escape:
You can use this to toggle the sidebar menu.
So enjoy Angry Birds For Mac on your with these keyboard shortcuts.